DNA Repair & Genome Stability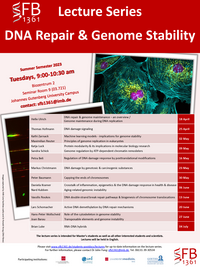 In the summer semester 2023, the SFB 1361 will host the Lecture Series "DNA Repair & Genome Stability" again. We have added some new topics, so some lectures might also be interesting to those who already attended the lecture series in the past years. Please find the full schedule below or on the poster.
Lectures will be given by representatives from the SFB 1361. They will take place at Biozentrum 2, seminar room 9 (03.721), during the summer semester on Tuesdays, 9:00-10:30 am.
Lectures are open to scientists and students affiliated with the participating institutions. If you are a JGU Master's student and wish to receive credits points for attending this lecture series, please register via JOGU-StINe.
For further information, please feel free to contact us.
2023
| Date | Title | Lecturer | Slides |
| --- | --- | --- | --- |
| 18.04.2023 | DNA repair & genome maintenance – an overview / Genome maintenance during DNA replication | Prof. Helle Ulrich | Click here |
| 25.04.2023 | DNA damage signaling | Prof. Thomas Hofmann | Click here |
| 02.05.2023 | Machine learning models - implications for genome stability / Principles of genome replication in eukaryotes | Dr Kathi Zarnack / Dr Maximilian Reuter | Click here |
| 09.05.2023 | Protein modularity & its implications in molecular biology research / Genome regulation by ATP-dependent chromatin remodelers | Dr Katja Luck / Dr Sandra Schick | Click here |
| 16.05.2023 | Regulation of DNA damage response by posttranslational modifications | Prof. Petra Beli | Click here |
| 23.05.2023 | DNA damage by genotoxic & carcinogenic substances | Prof. Markus Christmann | Click here |
| 30.05.2023 | Capping the ends of chromosomes | Prof. Peter Baumann | Click here |
| 06.06.2023 | Crosstalk of inflammation, epigenetics & the DNA damage response in health & disease / Aging-related genomic instability | Dr Daniela Kramer / Dr Nard Kubben | Click here |
| 13.06.2023 | DNA double strand break repair pathways & biogenesis of chromosome translocations | Dr Vassilis Roukos | Click here |
| 20.06.2023 | Active DNA demethylation by DNA repair mechanisms | Dr Lars Schomacher | Click here |
| 27.06.2023 | Role of the cytoskeleton in genome stability / Transposable elements and genome instability | Dr Hans-Peter Wollscheid / Dr Joan Barau | Click here |
| 04.07.2023 | RNA-DNA hybrids | Prof. Brian Luke | Click here |