********************************************************English version below********************************************************
Öffentlicher Vortrag - Das Geheimnis des menschlichen Alterns: Neue Erkenntnisse aus der Biologie des Alterns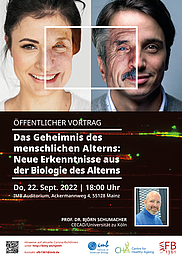 Der demographische Wandel verändert unsere Gesellschaft grundlegend. Schon bald ist ein Drittel unserer Bevölkerung über 65 Jahre alt und ein erheblicher Teil leidet an altersbedingten Krankheiten: Demenz, Krebs, Herzkreislauferkrankungen, Diabetes, Arthritis und andere chronische Erkrankungen. Alle diese Krankheiten haben eine gemeinsame Ursache: Das Altern.
Die moderne Alternsforschung ist gerade einmal gut zwei Jahrzehnte alt und hat uns schon tiefe Einblicke in die Ursachen des Alterns gegeben. Erbgutschäden treiben den Alterungsprozess voran, Gene wurden gefunden die Langlebigkeit kontrollieren. Prof. Björn Schumacher (CECAD Köln) wird Ursachen des Alterns erläutern und aufzeigen, welche neuen Möglichkeiten sich abzeichnen dem Alterungsprozess entgegenzuwirken und so altersbedingte Krankheiten zu verhindern und die Gesundheit im Alter zu erhalten.
Der Vortrag wird auf Deutsch gehalten, ist kostenfrei und richtet sich an ein breites Publikum.
Ort: Auditorium des Instituts für Molekulare Biologie (Ackermannweg 4, 55128 Mainz)
Datum: Donnerstag, 22.09.2022
Uhrzeit: 18:00 Uhr
Hinweise zu Corona-Regelungen: Bitte tragen Sie einen selbst mitgebrachten medizinischen Mund-Nasen-Schutz beim Betreten und Verlassen des Auditoriums, sowie wenn ein Abstand von 1,5 m zu anderen Personen nicht eingehalten werden kann.
Public lecture - The mystery of human ageing: New insights from the biology of ageing
Demographic change is fundamentally altering our society. Soon, one-third of our population will be over the age of 65, and a significant proportion will suffer from age-related diseases: Dementia, cancer, cardiovascular disease, diabetes, arthritis and other chronic diseases. All of these diseases have a common cause: ageing.
Modern ageing research is just over two decades old and has already given us deep insights into the causes of ageing. Genetic damage drives the ageing process and genes have been found that control longevity. Prof. Björn Schumacher (CECAD Cologne) will explain the causes of ageing and show which new possibilities are emerging to counteract the ageing process and thus prevent age-related diseases and maintain health in old age.
The lecture will be held in German and is free of charge.
Location: Auditorium of the Institute of Molecular Biology (Ackermannweg 4, 55128 Mainz)
Date: Thursday, 22.09.2022
Time: 18:00
Notes on corona regulations: Please wear a self-brought medical mask when entering and leaving the auditorium, as well as when a distance of 1.5 m to other persons cannot be maintained.